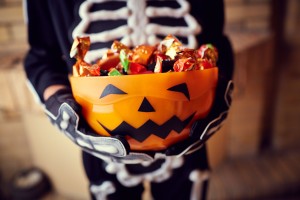 Diabetes is the biggest risk, not Covid-19. COVID risk for kids Trick or Treating age is extremely low. Backyard pools, riding in the car, influenza…. All pose a higher risk. 6 to 60 times higher risk.
Diabetes on the other hand is rising in kids. Collecting 2- 5 pounds of sugar to eat over the next couple weeks is the biggest risk. Kids raised on sugar, get to be adults who crave sugar. If there is one thing that is difficult getting adults healthy again, it is getting over the sugars in the diet. Doing this every year gives your kids a warm fuzzy… it actually causes release of the same chemicals in the brain that cocaine elicits. That's why it is called a sugar "addiction".
When my children were this age, we did the Trick or Treating because it is very fun and a ritual of that age in our society. But, when they brought home the loot, we had them pick their favorites ones, one for every year of age, keep them and we donated the rest to soldiers out of the country. At the time, my kids complained profusely. "Nobody else's kids….. " They are now in their late 20s and neither of them cares much for sugar. Both, extremely healthy and now appreciate those steps we took when they were young as they are now already seeing a few of their friends in their 20s, suffering from sugar's effects. When they are in their 50s, their more sugared classmates will be falling left and right to diseases of inflammation.
When I was a kid, we were allowed to eat it all. But, we also did not have all the crummy processed foods. We ate prepared foods the rest of the year. We didn't have much for processed. Heck, the only processed food we had was when my mother diluted 2% milk with water and then added some powdered milk to make it go farther. There were certainly no Pop Tarts in the house. Even though we'd see them on TV… SOMEBODY was eating Pop Tarts… it wasn't us.
Anyway, if your convictions allow you to let your kids dress up and run around the neighborhood on All Hallows Eve…. There is no danger to their health posed by COVID. They may become diabetic, or a serial killer wannabe… but COVID is not the risk.
Best Wishes,
Dr. Dan Barrett